Services and Rates
Time indicated is "hands-on" time. Pre-session consultation is complimentary. Rates do not include gratuity and are subject to change without notice. Policies
---
INDIVIDUAL MASSAGE
Relaxation (Swedish) Massage
This classic massage treatment incorporates long, flowing strokes and light to medium pressure. Your session will address such issues as stress, tension and mild to moderate muscle discomfort. Swedish massage if often recommended for first time massage clients.
½ Hour – $40; 1 Hour – $60, 1 ½ Hour – $90, 2 Hours – $120
Deep Tissue Massage
The therapist will apply more pressure to alleviate tension in your muscles, often with knuckles or elbows to reach deeper muscle layers and reverse chronic pain and tension. While deep tissue massage can be somewhat uncomfortable at times, the therapist will warm the muscles before going into deeper fibers. Proper techniques can minimize any soreness that might occur.
½ Hour – $45; 1 Hour – $70, 1 ½ Hour – $100, 2 Hours – $140
Neuromuscular Therapy
This type of massage is muscle specific therapy and is used to treat people with severe muscle pain often due to injuries or after an accident (aka "medical massage"). The therapist will use deep pressure to eliminate trigger points (painful nodules) in your muscles. Please remember that you may experience soreness the next day after your treatment. A series of weekly sessions may be needed.
½ Hour – $45; 1 Hour – $70, 1 ½ Hour – $100
Reiki
The gentle touch of Reiki balances your chakras and releases energy blockage. You will remain fully dressed and relax on a massage table while the therapist places her hands on your body in specific areas (mostly head, shoulders and back). Reiki works great for stress, anxiety and nervous tension.
½ Hour – $40; 1 Hour – $60, 1 ½ Hour – $90
CranioSacral Therapy
A holistic practice that uses very light touch to balance the Cranio-Sacral system in the body which includes the bones, nerves, fluids and connective tissue of the cranium and spinal area. This therapy is said to be particularly useful for mental stress, neck and back pain, migraines, TMJ Syndrome, and for chronic conditions such as fibromyalgia. You will rest on a massage table and remain fully clothed.
½ Hour – $40; 1 Hour – $60
Ashiatsu Bar TherapyTM
"The deepest, most luxurious deep tissue massage on the planet". Your therapist will use soft, clean feet while holding on two parallel ceiling bars for balance and support. The pressure will be deeper – minus the pain and discomfort! It's great for anyone who enjoys deep pressure, and especially for large, muscular men and athletes. While it's a more broad application, trigger points can be located and efficiently treated. Not appropriate for people with serious health conditions and pregnant women. Learn More!
½ Hour – $50; 1 Hour – $85, 1 ½ Hour – $125, 2 Hours – $175
1 Hour Plus ½ hour Swedish or deep tissue massage – $115
NEW!
Sarga bodywork is a type of massage performed with the practitioner's feet. The therapist uses a fabric strap attached to the table for balance, stability, and to add tensional and gravitational forces. It is slower, deeper and more relaxing than other barefoot massage methods. It was developed in Hawai'i using traditional Oriental massage modalities, as well as myofascial therapy techniques.
1 Hour – $85, 1 1/2 Hour – $125, 2 Hours – $175
Thai Massage
Often described as "lazy person's yoga", this interactive form of massage therapy is performed on a floor mat with the client wearing loose, comfortable clothes. Your session will involve stretching and flexing the body in yoga-like positions. The therapist will also use palm, thumb and feet pressure to relax your muscles. The foot compressions can be applied gently or deeply to relax or energize the receiver. Great for runners, dancers or anyone who wants to relax and increase their range of motion. Learn More
1 Hour – $75, 1 ½ Hour – $115, 2 Hours – $150
Hot Stone Massage
Stone massage is a form of bodywork that involves the application of heated stones (thermotherapy) to the body. Some cold stones may be used as well. In addition to being heavenly relaxing, this type of massage is great for someone who does not like or cannot tolerate deep pressure. The heat from the stones radiates deeply into your muscles and relieves the tension. You will stay warm and relaxed for the rest of your day.
1 ½ Hour – $125
Include Hot Stones in any massage session – add extra $10
SPECIALTY SERVICES AND COMBOS
Rainessence Reiki Massage
Combines Reiki, Foot Reflexology and Hot Stone massage for a deeply relaxing experience. In addition, aromatherapy oils are first applied to your feet and then sprinkled along your spine. An hour long session will affect your body on several levels, balancing your chakras and restoring your energy. Please note: this is NOT a full body massage; most work will be performed on your back and neck.
1 Hour – $75
Runner's Special
An hour long session combines Ashiatsu Oriental Bar Therapy™, Deep Tissue massage and Neuromuscular Therapy. Ashiatsu Oriental Bar Therapy™ will target tension in your large muscle groups such as hamstrings, glutes and quadriceps and then the therapist will work on the smaller muscles in your calves, shins and feet. Please do not book immediately before or after your running event.
1 Hour – $85
Back Saver
Will target your upper body. Similar to Runner's Special, an hour long session will combine Ashiatsu Oriental Bar Therapy™ and regular deep tissue massage with Neuromuscular Therapy. First, deep foot pressure will be applied to your large back muscles. The therapist will use hands, elbows and knuckles to work on smaller muscles of your back and neck.
1 Hour – $85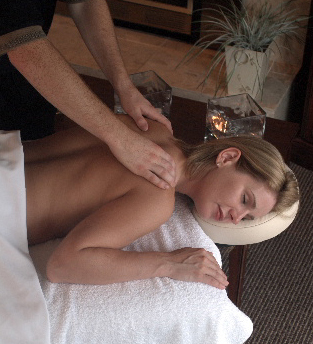 GIFT CARDS AVAILABLE
Gift Cards cannot be refunded or exchanged for cash. Buy Online Today!
---
APPOINTMENTS REQUIRED
To help keep my prices affordable, I ask that you pay with cash or a check whenever possible.  I appreciate your cooperation.
Rates do not include gratuity and are subject to change without notice.